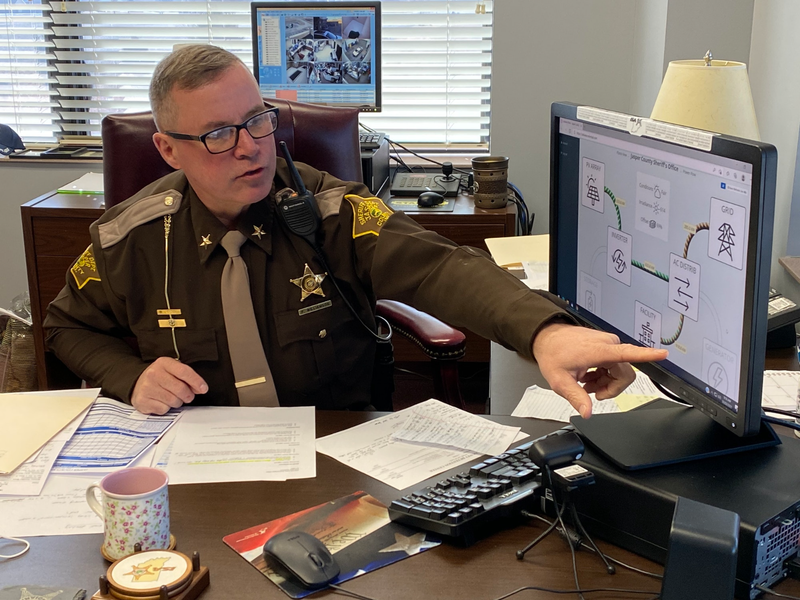 Jasper County Jail to Celebrate New Solar Array with a Green Ribbon-Cutting Ceremony Monday, April 5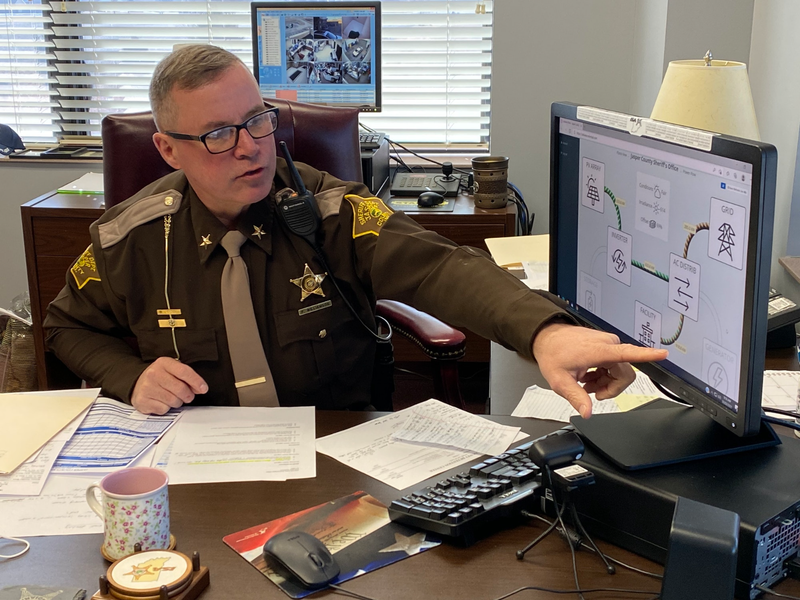 RENSSELAER, Indiana (April 1, 2021) – Jasper County Jail Commander Justin Burkhart appreciates a comfortable jail. For years, this rural Indiana correctional facility struggled to keep deputies, staff, and inmates warm in the winter, cool in the summer, and pay energy bills that soared to more than $25,000 a month. "It got so cold we had to issue inmates extra blankets and sweatshirts and so hot we had to add plug-in fans. We got a lot of complaints," he says.
Fortunately, there are no complaints now. Instead, on Monday, April 5, at 11 a.m., the Jasper County Jail, Jasper County Commissioners, and local dignitaries will be joined by Trane Technologies and Solential Energy for a Green Ribbon-Cutting Ceremony celebrating the facility's new solar system and energy system overhaul. The project has corrected problems that have existed since the jail was built in 2007 and created the opportunity to cut monthly energy costs in half. View video here.
Kendell Culp, president of the Jasper County Commissioners, says the county met with several companies on improving the jail's energy systems and controlling costs. The Trane-Solential team was the only one that recommended an energy audit and solar energy. "They studied the building and our issues before presenting a strategy that included adding a solar array. With the projected energy savings, the solar system will pay for itself. This is a big win for Jasper County."
At the center of the celebration is a 2,232-panel, ground-mounted solar array installed on 3.5 acres adjacent to the jail by Solential Energy of Carmel, Indiana. The system has an annual generating capacity of 1.1 million kilowatt hours and is expected to provide 50 to 100 percent of the jail's electricity needs. Even on snowy days in February, the solar array was producing 50 percent of the jail's energy needs, impressing Jasper County Sheriff Pat Williamson. The solar system includes a Cloud-based remote monitoring system called Solview that allows the sheriff and others to monitor the system's energy output and other data in real time.
"In the past, I didn't pay much attention to the jail's energy system other than our monthly bills and the complaints about how cold the jail was. Now, with our own solar system and the other upgrades, we're reducing our energy costs and able to maintain comfortable temperatures across the jail. I find myself on the real-time monitoring system throughout the day, tracking our energy production and use. Saving taxpayer money on energy is a huge benefit," says Sheriff Williamson.
Trane Technologies' Brian Pickering, who worked closely with Jasper County Commissioners and the jail officials on the project, says there is increasing interest in solar from correctional facilities, city and county governments, and school districts that need to control energy costs while providing constituents and employees with safe, comfortable environments. "The COVID-19 pandemic and changes in the nation's policy have contributed to heightened awareness of renewable energy and need to improve energy efficiency and indoor air quality. What is exciting is that there is now federal funding to help state and local governments and school districts to take advantage of green energy and indoor air quality solutions."
As part of the Jasper County Jail ribbon-cutting ceremony, Solential Energy CEO Jim Shaw will provide tours of the solar array, which will soon be planted with a pollinator habitat featuring native Indiana flowers and grasses. Shaw will also demonstrate the Solview remote monitoring system.
About Solential Energy
Founded in 2009, Solential Energy is a solar energy developer that delivers custom energy solutions to communities across the United States. Solential specializes in the design, development, installation, and ongoing management of commercial solar-powered solutions with a primary focus of helping customers in the education, utility, municipal, agriculture, and commercial industries. Learn more.
About Trane Technologies Indiana
Trane Technologies is a world leader in creating comfortable, sustainable, and efficient environments to put the planet first. Based in Indianapolis, Trane Technologies Indiana optimizes the performance of homes and buildings across the Midwest. A leader in creating and sustaining safe, comfortable and energy efficient environments, Trane offers a broad portfolio of advanced controls and HVAC systems, comprehensive building services and parts. Learn more.