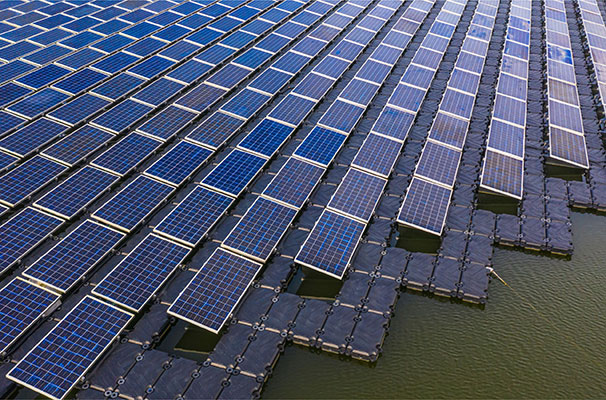 Floatovoltaics: the Hottest Solar Solution for Midwest Water Treatment Facilities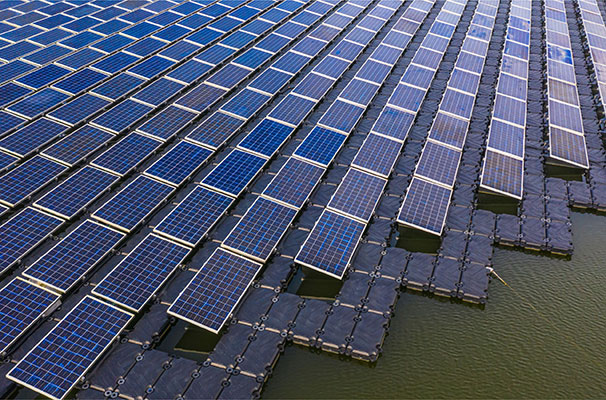 One of the most exciting things in the solar industry is the rise of innovative solutions that continue to make solar power the preferred renewable energy of choice for commercial and governmental applications. Our favorite "hot" technology is "floatovoltaics" and if Solential gets our way, we'll be among the first if not the first commercial solar company to introduce it in Indiana and the Midwest. Frankly, we can't wait as it creates an exciting new way to go solar.
What exactly is floatovoltaics? In a nutshell, floatovoltaics are photovoltaic solar panel arrays installed on bodies of water, as opposed to more conventional land-based, rooftop, or packing canopy solar panel installations one typically sees. You may wonder why put solar panels on water? Before we dive into the whys, here's where floatovoltaic solar arrays are a perfect solution:
Wastewater treatment lagoons
Drinking water reservoirs
Water retention ponds
Irrigation ponds
Agriculture ponds
Retired quarry lakes or tailings ponds
Hydroelectric ponds and lakes
Open sea
Here are some of the other whys floatovoltaic solar arrays are a great new option for commercial solar projects:
One, water-mounted arrays preserve valuable land for other uses such as agriculture, park lands, wildlife areas, residential, and other greenspaces. While people love renewable energy for being low cost and carbon neutrality, people also love green fields and forests. Being creative and reusing certain bodies of water for floatovoltaics is like having your cake and eating it too.
Two, floatovoltaics make these bodies of water healthier. The solar panels shade the water, which inhibits algae growth. Anyone who manages commercial ponds or lagoons will appreciate not having to battle algae and other sun-loving aquatic weeds.
Three, floatovoltaics slow water evaporation by absorbing the sun's rays, an important benefit to both drinking water reservoirs and wastewater treatment lagoons.
Four, floatovoltaics are more efficient at solar energy production. The efficiency of these floating structures is estimated to be 8-10% higher than land-based solar plants because the surrounding water acts as a natural coolant to the panels. This increases efficiency and improves overall energy yield.
Five, floatovoltaics are easy to install and maintain. The racking system for the solar panels are installed on floats anchored to the banks or bottom of the lake or pond. A secondary float system provides walkways for maintenance.
Six, floatovoltaics systems can be very robust. They can be designed to be resistant to extreme winds, snow and ice, and corrosion.
See why we like floatovoltaics as an important new option for locating and installing solar arrays? There are many water and wastewater treatment plants, municipalities, agriculture and food processing operations as well as owners of retired mines and other sites that can take advantage of floatovoltaics and reap the many rewards of renewable solar energy.
Because of our passion for innovation, Solential has identified the ideal partner, Ciel et Terre, the French company that developed , patented and commercialized Hydrelio® technology, the first water-based solar concept in 2011. Their initial installation was in a former quarry in France. Today, Ciel et Terre—which means Sky and Earth—has installed 230 floatovoltaic projects in 30 countries around the world. This includes the first megawatt scale floating PV project in Okegawa, Japan at 1.1 MW. Check out some of Ciel et Terre's installations here.
Ciel et Terre has done at least three projects in the United States to date, including the largest installation in North America at a water treatment plant in Sayreville, New Jersey. The city decided to install the 4.4 MW floating solar array on the town's pre-treatment water storage pond due to a lack of available land. The floating solar system supplies about five million kWh of solar electricity annually, representing 100% of Sayreville's energy requirements for its water treatment plant. Check out our previous blog on Sayreville here.
Solential believes there is a significant opportunity for floatovoltaic solar arrays in Indiana and the Midwest, particularly among water and wastewater treatment facilities that can be landlocked with no room for ground-mounted arrays. Floating solar arrays are the perfect solution, from locating in existing lagoons and reservoirs to generating renewable energy to the power the plants. Other significant opportunities are food processing plants, large farm enterprises with holding ponds, and retired quarries like those found in southern Indiana. These arrays are flexible in design and can range from 100 kW to 100+ MW of power.
If you would like to learn more about floatovoltaics for commercial solar projects in Indiana and the Midwest, please reach out to Solential. We also have information on financing, including federal infrastructure funding, available to water and wastewater facilities. Call or text Corey Miller at 317-627-4530 or email cmiller@solential.com.