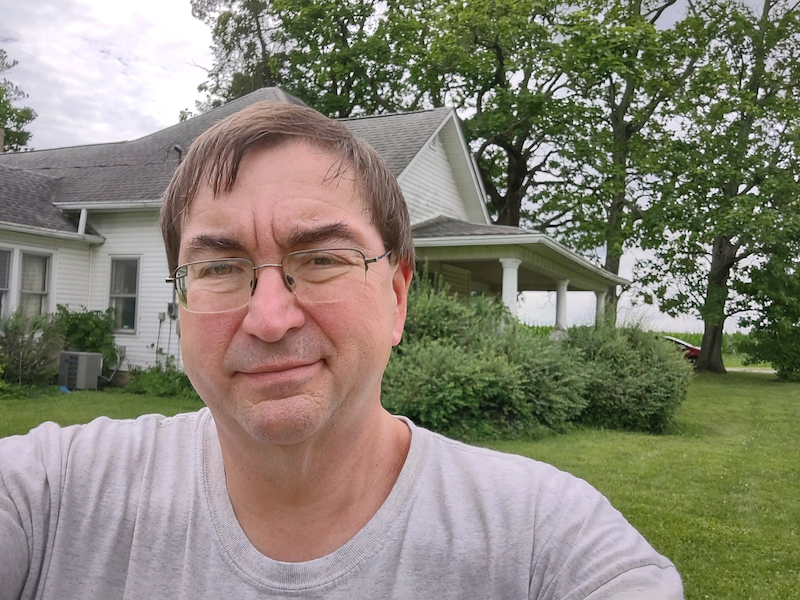 Powerful Legacy: Hendricks County Family Leases Farm Land for Solar Project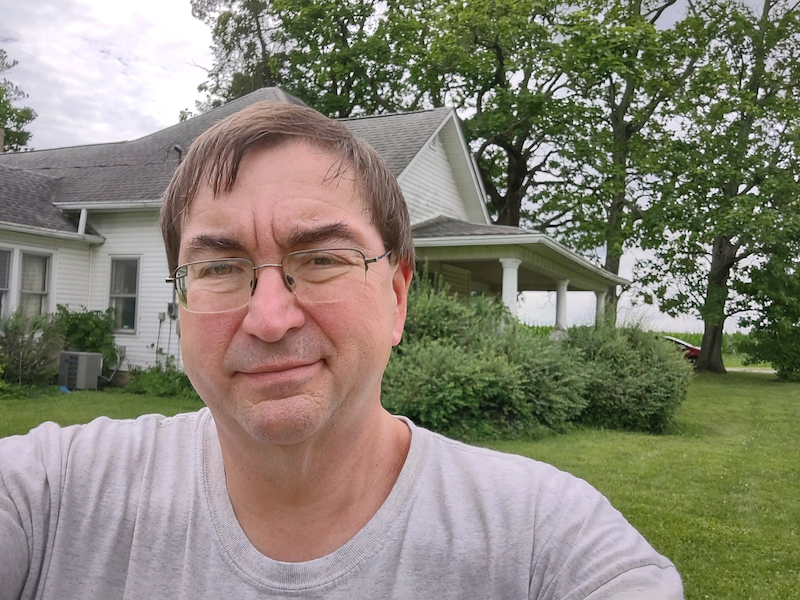 Larry Graham knows what it's like to work on a farm. It's tough. Yet he appreciates the rhythm of a farm: the planting, the fertilizing, the good harvests and bad. Although he no longer farms himself, the profession has been in his family for six generations. He has a deep appreciation for the land in rural Hendricks County, Indiana.
Larry looks out over the crop fields and forests and explains the connection. "This land has been in the family since 1842. I still have the original deed. It's not the black earth they have up in Tippecanoe County, but it's still good land, productive land."
Over the generations, there have been at least two homesteads and a schoolhouse on the Graham's farm. The current family home was built in 1896. "It was originally my great grandparent's house," Larry explains. "I grew up in the home with my parents. Now, my family lives there part-time."
The family sold off bits of land here and there. The farm currently totals 130 acres, of which 30 acres are forested. The single-room schoolhouse was torn down years ago as Larry's father feared it was a safety hazard. The CSX railroad had track in front of the house, but they pulled out some 30 years ago. The track, since removed, is now part of the B&O Bike Trail to Brownsburg.
As a boy, Larry farmed with his dad, raising corn, soybeans, wheat, hogs, and sheep. To bring stability to the family's finances, his mother worked as a telephone operator for Indiana Bell. "You can't count on farming," Larry quips.
In 1985, Larry's father died of a sudden heart attack. The Graham family stopped farming for good although they continued to live on the land. Larry was 19 years old and didn't feel he could take on the responsibilities of running the farm on his own. He joined the railroad instead.
For the next 24 years, Larry worked as a trainman with the Belt Railway of Chicago. And, for a spell, he worked for the Indiana Transportation Museum in train and engine service. Diagnosed with diabetes 12 years ago, Larry has endured a cascade of health issues. He decided to leave his beloved railroad job and file for railroad retirement occupational disability.
Fortunately, his income was supplemented by a family trust his mom Betty established in 1991. The trust is responsible for keeping the farm rented and generating income for family beneficiaries. Various farmers had rented the land over the years. A few years ago, there was turnover in the tenant farmers, which troubled Larry.
"I depend on the income the trust generates, so I want stability in our tenant farmers. I decided to research solar farms to see if leasing land for solar arrays was a better fit," he says.
In 2020, while scrolling through Facebook, he found Solential Energy, a Carmel, Indiana-based commercial solar developer. Looking at the website, Larry noticed Solential had built a number of community solar arrays for the Wabash Valley Power Authority. Knowing that the local electric cooperative, Hendricks Power, was committed to building a solar array for its customers with Solential  and sensing an opportunity, Larry reached out to Solential.
"I told them that I had farmland in Hendricks County, and I was interested in leasing it for Hendricks Power's solar project. Unfortunately, Solential had already identified a site. We agreed to stay in touch should anything change or if Solential had a future solar project in the area," Larry says.
As luck would have it, the original proposed site of Hendricks Power's community solar array, Cascade High School in Monrovia, decided to pass on leasing its land for the project. The school board wanted to retain control of their land for future expansion of the school. Hearing this, Larry messaged Solential to see if the solar company would be interested in taking a look at the Graham family farm. This time Solential said yes.
As CEO, Jim Shaw finds himself involved in all aspects of customers' solar projects, including site selection, working with public utilities, planning commissions, and attorneys. "Larry reaching back out when our original site fell through was a great twist of fate. He took me out to the farm, which is in the small community of Tilden. The land was ideal—56+ acres of cleared ground with a natural, dense tree line that screened the array from surrounding neighbors."
Larry and Jim shook hands, but there was a tremendous amount of heavy lifting before the site was a done deal. Because the land was held in trust, Solential had to work through the trust's executors, which was more time-consuming than a typical land lease agreement.
"The trust, which is named the Betty Ann Graham Living Trust, was originally created to support Larry's mother, Betty Ann. Once she passed, Larry became the beneficiary. The negotiations to lease the land were painstaking. Not only were they looking out for Larry, but the executors were also there to protect the land itself," Jim explains. "Another twist to navigate is the project is owned by a Denver-based solar investor, Solriver Capital. So they were also involved in the land lease agreement."
There are multiple reasons for outside investors to invest in solar projects like Hendricks Power's seven-megawatt solar project. In return for financing the projects, the investor signs a long-term power purchasing agreement (PPA) with the entity using the power. In this case, Hendricks Power signed a PPA of 25 years with the option to extend it for another 15 years. Hendricks gets renewable solar power for its co-op members at stable rates as well as capacity savings. The 25-plus year revenue stream benefits Solriver as do the Investment Tax Credits (ITC).
"The tax credits were created by the federal government to bring more private investors into solar development," Jim says. "These credits were set to step down to a lower percentage by the end of 2022. We thought we wouldn't get the deal done in time. But as part of the COVID pandemic relief package, the tax credits were extended. Our investor will still get the tax credits."
The lease agreement was finally signed in May 2022, clearing the way for Hendricks Power's community solar project. The largest of its kind in Indiana, the project will bring clean, renewable electricity to the coop's 35,000 members across Hendricks County. It also brings financial security to Larry Graham and his family for the next 25, and quite possibly 40, years. The solar lease will pay Larry twice the amount he'd get from leasing the land for farming.
In recognition of the Graham Family, Hendricks Power agreed to name the project the C&B Graham Energy Solar Energy Project in honor of Larry's parents, Charles and Betty Ann. A plaque will be placed at the site once the array is completed in mid 2023.
Larry is pleased by how well the Hendricks Power solar project worked out for the county that has been his family's ancestral home for 180 years and its residents, many of whom are friends and neighbors, and for his own family. "I'm a proponent of renewable energy so it's great that this solar farm is reducing the county's dependence on coal. Creating a legacy for my family, generations of whom were farmers, is wonderful, too. I'm also extremely happy to bring financial stability to my family after all the health issues I've been through."
He is also proud to point out that 45 acres of the Graham family farm will continue to be farmed. "The Grahams came to Hendricks County to farm. It's good to continue to use a portion of this land producing crops. I couldn't be happier."
Larry plans to join Hendricks Power, Solential Energy, local politicians, and coop members when the new solar array is commissioned some time next summer. In the meantime, he's interested in helping other farmers benefit from leasing small tracts of land for solar arrays. "The arrays don't have to be huge to make an impact on power generation and on a farm family's financial security," he says.
"At the end of the day,I just want to ensure the long-term viability of the farm for my children and grandchildren."
Are you interested in learning more about how leasing farmland benefits landowners, communities and the environment? Whether you have a large tract or a smaller acreage, you're looking for the financial stability of a solar lease can provide or want to "give back" to the land or your community by generating renewable solar power locally, Solential Energy is available to answer your questions. We are more than happy to visit your farm or property and discuss options. Powerful energy strategies begin with people like you. Please contact Mark Falahee at mfalahee@solential.com or call Mark at 317-978-1727.