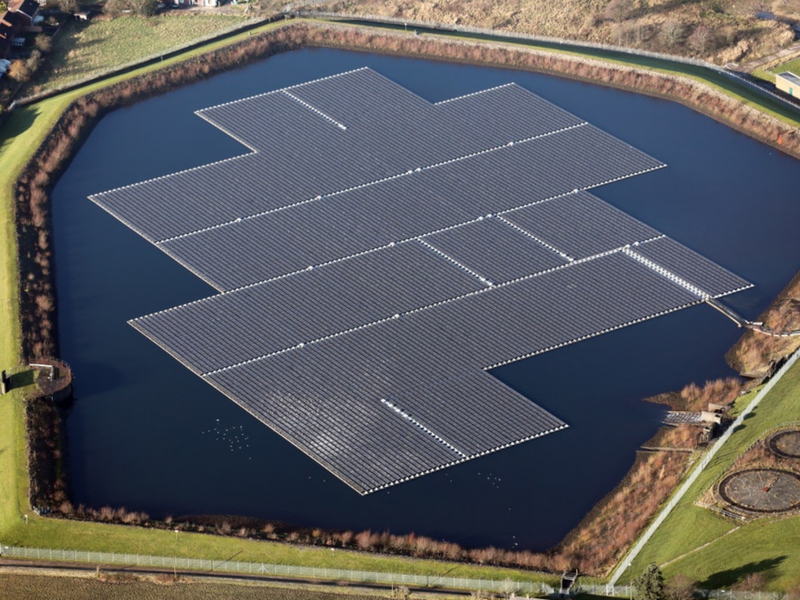 In an Industry First, Solential Energy Is Bringing Floatovoltaic Solar Solutions to Midwest Water and Wastewater Treatment Plants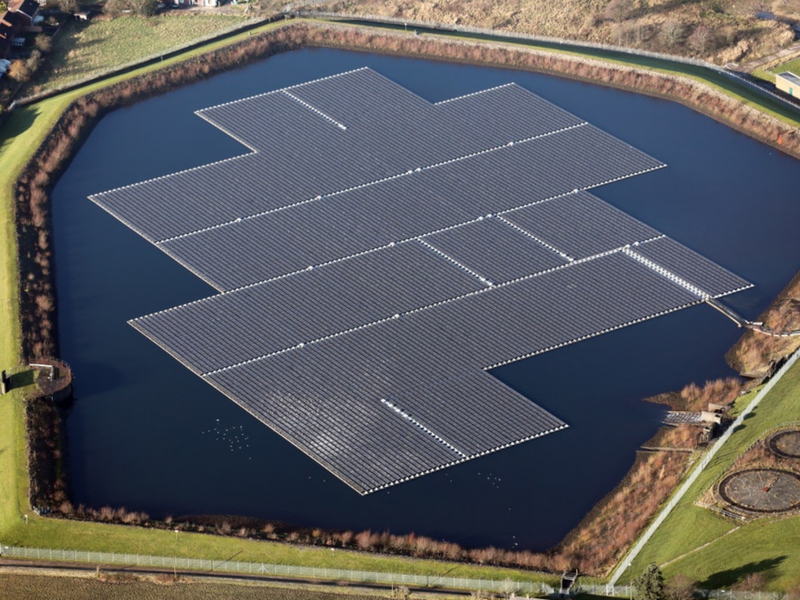 CARMEL, Indiana (November 4, 2021) – – Solential Energy, a leading provider of solar energy generation and storage solutions, today announced a strategic initiative that will make renewable solar energy a much more attractive option for municipalities, and water and wastewater treatment plants seeking to lower energy costs and boost resilience. This initiative involves bringing floatovoltaics—solar arrays designed and engineered to float on the surface of reservoirs and treatment lagoons—to the Midwest for the first time.
Solential will secure the solar racking systems from French company Ciel & Terre, which created and perfected floatovoltaic technology more than a decade ago. Since commercializing the technology in 2011, Ciel & Terre has installed more than 240 floatovoltaic systems around the world in 30 countries that include China, France, India, Israel, Japan, South Africa, and Turkey.
Solential CEO Jim Shaw says interest in solar solutions in the water and wastewater treatment industry is high, largely because of the opportunity to control rising energy costs and reduce reliance on fossil fuels. Issues such as a lack of space for traditional ground-mounted solar arrays and the cost of acquiring additional land have stopped many from moving forward with solar.
"Floatovoltaics is a game changer for municipalities that want to generate solar onsite at their water and wastewater plants" Shaw says. "We can install solar arrays on existing reservoirs and treatment lagoons, which eliminates the cost of acquiring land for solar arrays or having to use land set aside for future expansion of water/wastewater operations."
There are other significant benefits of going the floating solar route. Solar energy can save plants upwards of 50 percent on their energy bills. When the solar panels are installed over water, the savings can be as much as 10 percent more because the water cools the solar panels, increasing energy production. The solar panels also shade the reservoirs and lagoons, slowing evaporation and inhibiting the growth of algae.
While Ciel & Terre has a presence in the United States, its installations are largely in California and Florida. Ciel & Terre will supply Solential with the floatovoltaic racking systems and its patented Hydrelio® technology, the blow-molded HDPE plastic on which the racking and panel sits. Lab tested and field proven in a wide range of challenging environments, Hydrelio® technology is recognized as the standard in the floatovoltaic industry.
Commenting on the announcement, Chris Bartle, Director of Marketing, Ciel & Terre USA says, "We are delighted to join Solential in bringing floatovoltaics to America's Midwest, and specifically to the water and wastewater treatment industries. Using existing bodies of water, we will enable them to produce green energy the world so desperately needs while fulfilling their mission to customers, reliable services at affordable rates.
Solential is in final negotiations with a major Midwestern city to install the region's first floatovoltaic solar system.
About Solential Energy
Solential Energy is an Indiana based renewable energy company specializing in commercial solar energy generation, storage and microgrid systems. Solential has installed numerous commercial solar and microgrid solutions across the Midwest for agricultural operations, businesses, correctional facilities, water and wastewater treatment plants, schools, and other municipal buildings. Learn more.
About Ciel & Terre
Headquartered in France with a growing global presence, Ciel & Terre is a pioneer and leader of the floating solar market. Since 2011, Ciel & Terre has developed and installed more than 240 large-scale floating PV plants for commercial, government and non-profit institutions worldwide in 30 nations on five continents. Learn more.
Contact: Melanie Lux, melanie@lux-writes.com, +1 803 331 4794