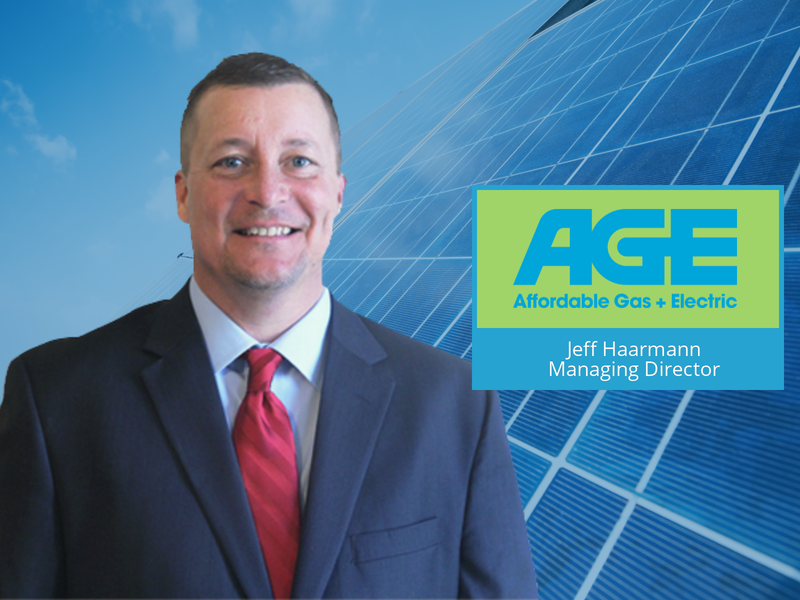 High Energy Costs Stressing You Out? Explore Solar Now.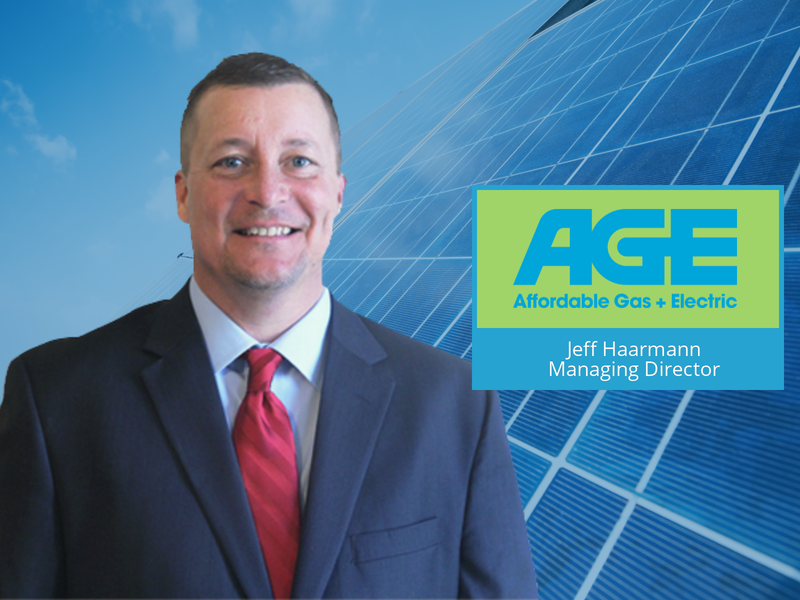 Never in his ten years as managing partner of Affordable Gas & Energy (AGE) has Jeff Haarmann seen energy prices go up so fast and so high. He's telling clients to expect more of the same.
"Energy costs are bad and are going to get worse," he warns. "Look at where inflation is today. Rising energy costs haven't been factored in yet. In Illinois, Ameren has been warning and recently announced energy rates up 100 percent on default supply alone."
Haarmann's firm, AGE, is an energy management and solutions company to companies, chambers of commerce, large agricultural and industrial operations, and municipalities across Illinois and Ohio. Since 2012, AGE has delivered millions of dollars in savings on their clients' electric and natural gas bills, providing price security and stability. Until recently, U.S. energy markets have been fairly stable and predictable. Today's current national turmoil and federal and state political policies are causing incredible stress and calls from AGE clients for relief in the form of creative energy strategies.
Fight Energy Inflation with Co-generation
Increasingly, Haarmann is pointing clients to co-generation and in the majority of cases, this means adding solar to customers' energy equation.
"Historically, we've been able to secure rates 15 to 20 percent lower than public utilities in our markets, which are deregulated states. But with rates climbing across the board, it's no longer enough. Customers are looking for solutions to avoid the 50, 75 or even 100 percent increases they've seen recently," Haarmann explains. "The best solution today for many customers is generating their own solar to offset the energy they traditionally bought from energy suppliers.
"Five years ago, solar in Southern Illinois was a bad word as coal mining is a major industry. Now, coal mining operations and oil companies are turning to solar to run their businesses, partly because of the increases in traditional energy but also due to the incredible incentives at the state level. Given current economic conditions, there is a new open mindedness to solar adoption," he adds.
Solar Energy Goes Mainstream
Prior to AGE, Haarmann was in the telecom (Cable TV) business and likens solar power to satellite dishes. Twenty years ago, the only people with satellite dishes lived in rural areas. As the dishes got smaller and more sophisticated, city dwellers bought into the new technology with the desire to cut the cord. "Cable companies thought their technology was superior and customers would never leave and continued to raise rates," Haarmann says. "Then boom! Satellite dishes were everywhere."
He adds, "The same thing is happening with solar. Market pressures will force mass adoption only this time solar is literally being legislated into economic viability. Solutions like community solar, where small businesses, municipalities, and others own a portion of a solar array and receive credit on their electricity bills based on the power produced, are going to become much more attractive."
For his part, Haarmann is not mincing words with customers. "I'm telling customers, if you're not considering solar now to mitigate your exposure to rising energy costs, you're in trouble. There's a 12-month lead time on new solar projects. Make a commitment to add solar now or you will be forever chasing your tail."
Get Your Solar Strategy Now
There are several reasons for the extended lead times. Like every other industry, the supply chain for solar panels, which are largely produced in China and other Asian nations, were disrupted by the pandemic. Adding to the problem were federal tariffs on solar panels from Asia. Last week, the Biden Administration issued a temporary a two-year suspension on tariffs on solar panels produced in Cambodia, Malaysia, Thailand, and Vietnam. Still, panels won't be available until February and March 2023.
The second hold-up is funding through special government programs like the federal American Rescue Plan Act (ARPA) and state programs like Illinois Shines, which take time for the application and approval process. ARPA is tied to pandemic relief while Illinois Shines is an Adjustable Block Grant Program developed and managed by the Illinois Power Agency that supports solar development in Illinois. The program compensates businesses for every unit of renewable energy they produce. Illinois Shines went on a temporary hiatus when it ran out of funding. On September 15, 2021, Governor Pritzker signed the Climate and Equitable Jobs Act that extended the program through 2030.
"I tell my AGE Illinois customers to get on the list for Illinois Shines. It may take a while and cost some money upfront but get on the list. When you're accepted into the program, the payback is well worth it," Haarmann says. "ARPA has money set aside specifically for water and wastewater treatment facilities that is available through 2024."
Pork Producer Set to Reap Rewards of Solar
One of these customers that has taken advantage of government funding for solar is The Maschhoff's, one of the largest pork producers in the country and a long-time AGE customer. They came to Haarmann seeking relief from high energy bills from their primary feed mill in Griggsville, Illinois. Their energy costs were threatening the competitiveness of their business. Haarmann first sought lower rates from the local electric cooperative. When the utility wouldn't budge, he recommended a co-generation strategy that included solar to The Maschhoffs.
The Maschhoffs took his advice and after two years of working through the funding with the State of Illinois, recently broke ground on a 3.06-megawatt solar array with Solential Energy. When the solar array is commissioned in October, The Maschhoffs will save $350,000 a year in energy costs. This is a huge win for the pork producer, which processes all of its animal feed, an energy-intensive process.
Other AGE customers have also taken heed of Haarmann's recommendation, including the City of Marion, Illinois, Wastewater Treatment Plant and a Centralia, Illinois, school district. AGE has administered requests for proposals (RFPs) for solar arrays on behalf of both public entities. One has been awarded to Solential Energy and a second is pending.
Co-generation with Solar Is the Way to Go
Haarmann anticipates more of AGE's customers to adopt co-generation energy strategies. "If you can use solar to offset 50 to 70 percent of your energy requirements, you can regain control of your energy costs. There are other renewable energy sources to consider as well. We're open to any solution that ensures affordable energy for our customers."
To those considering new energy strategies that include solar, Haarmann says to choose solar partners wisely as every commercial energy customer has unique challenges. "The value of Solential Energy is their years in the business, expertise, and out-of-the box thinking. If you don't understand the business, the constantly changing landscape, the technology, and aren't willing to be creative in solving energy challenges, you're going to miss something. Who can risk that now?"
Learn more about Solential Energy by visiting our website here.